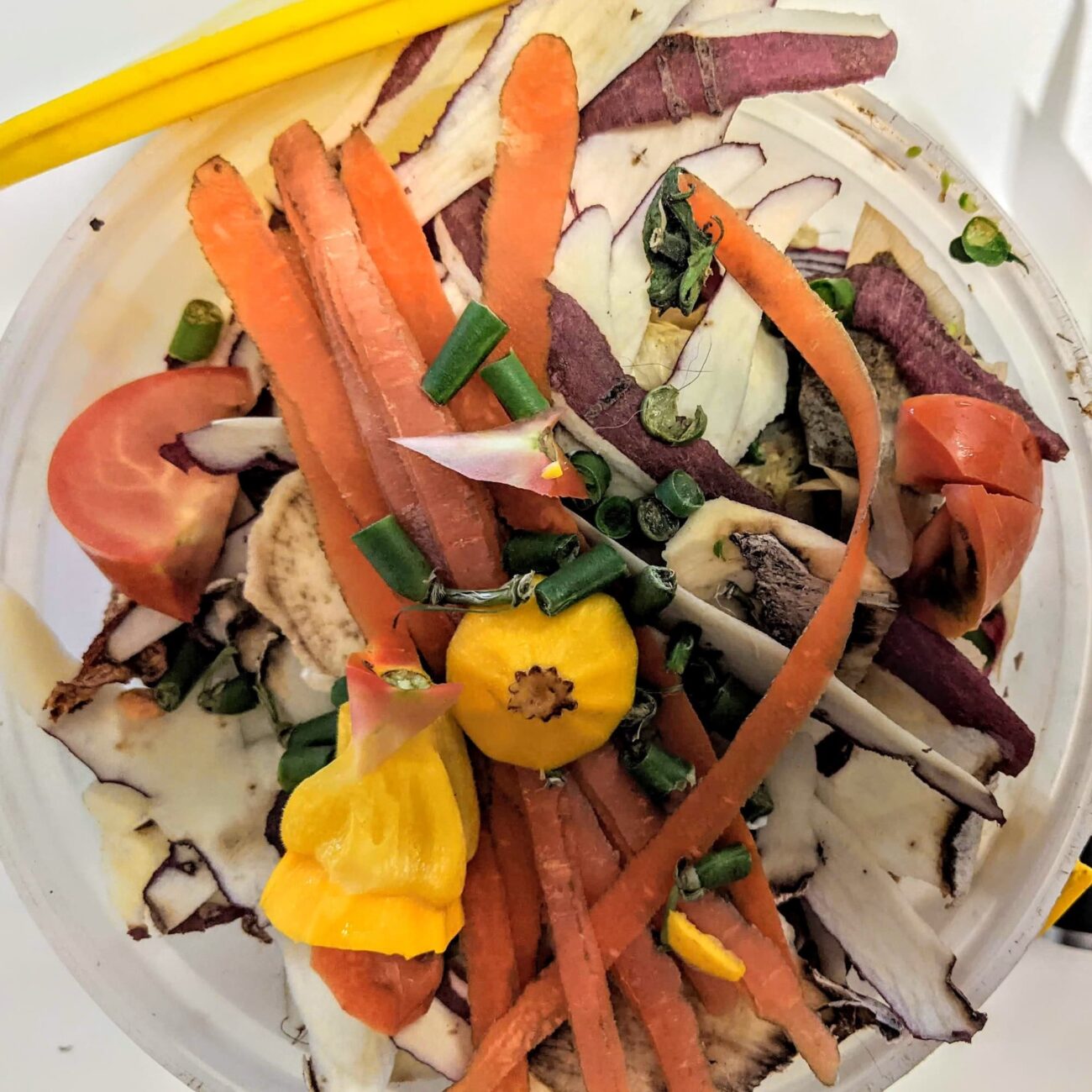 How to Compost in Milwaukee
In 2017 alone, over 39 millions tons of organic waste was sent to US landfills. That's the equivalent weight of 205 thousand blue whales! This number is less than what it was in 1990 because of states banning yard waste in landfills. But food waste is still allowed and accounts for 21.9% of the material in landfills, according to the US Environmental Protection Agency.(1)
We have an opportunity to reduce this number greatly if cities and states invest in a way to compost food waste on a large scale, like they did for yard waste when it was banned. In the meantime, we can compost our waste individually to help. Read more to find out how you can compost to support your community and the environment.
What is composting?
Composting is the natural process of breaking down organic matter. The process returns valuable nutrients to the soil in the form of compost. Nature does this on its own with the help of a variety of micro and macro-organisms. They help recycle nutrients back into the soil to support healthy ecosystems. We can control this process at home and in our communities to support our health and urban ecosystem.
Why is composting important?
Composting is an important factor to living sustainably in our community. By composting our organic waste and diverting it from the landfill, we're supporting our community and the environment in the following ways:
Emissions
When organic waste breaks down in landfills, it produces methane gas. Methane is a greenhouse gas like carbon dioxide, but it is far more potent. According to the US Environmental Protection Agency, the impact of methane in the atmosphere is 25 times greater than that of carbon dioxide.(2) By composting our organic waste, we're reducing the production of this harmful gas that is harmful to our heath and warming the planet.
Soil Quality
The quality of our soil affects how well it is able to keep plants alive. And plants are needed to keep animals alive, including humans. Unfortunately, the health of our soil is at risk because of compaction, erosion, over-farming, and use of chemicals. But by creating and adding compost to our soil, we're able to improve its overall quality! Compost improves soil structure, drainage, fertility, and availability of nutrients for plants.(3) By composting, we can recycle nutrients back into the soil to grow nutrient-rich food.
Climate Change Mitigation
Our climate is changing because of the large amounts of greenhouse gases, like carbon dioxide and methane, in our atmosphere. Too much of these gases in the atmosphere warms the planet like a greenhouse and impacts how we grow our food, our weather conditions, our recreation and job opportunities, and more. Composting removes carbon from the atmosphere by storing it in the soil. (4) Composting is an important tool in lessening the impacts of climate change in our community.
How can I compost in Milwaukee and the surrounding area?
Fortunately, there are a variety of ways to compost your organic waste in Milwaukee and the surrounding area! You can:
1. Compost at Home
Compost your waste at home and you'll have compost you can use in your yard! Take a look at the following home composting options and see what way works best for you.
Hot Composting

Hot composting is the quickest way to break down your yard and food waste. With weekly maintenance, you can make compost within 12 weeks to 6 months. Check out the How to Hot Compost guide to get started!

Find answers to your composting questions in the Composting FAQs!
Cold Composting – Kompost Kids Recommended!

Cold composting will break down yard and food waste, but at a slower pace than hot composting. With little effort you can make compost within 12 to 24 months. Check out the How to Cold Compost guide to get started!

Find answers to your composting questions in the Composting FAQs!
Vermicomposting

Vermicomposting uses red worms, or Eisenia Fetida, to compost your food scraps in a small space. A well managed worm bin can be set up in your house, apartment, or office. Check out the How to Vermicompost guide to get started!
Grasscycling

Grasscycling is as easy as leaving the grass clippings on your lawn after cutting the grass. This is a great way to add moisture and nitrogen to your lawn. Check out the How to Grasscycle guide to get started!
2. Use a Drop Off Site
Collect your organic waste in a container, like a 5 gallon bucket, and drop it off at one of the following sites and services:
City of Milwaukee Drop Off Centers

6660 N Industrial Rd & 3879 W Lincoln Ave
Accepts yard waste such as grass clippings, leaves, brush, branches, and garden debris.
Community Gardens

Located at various sites throughout the Milwaukee area.
Check with the site host at the community garden near you about dropping off your organic waste.
Kompost Kids

Corner of S 6th St & Waterford Ave in the Garden District
Accepts vegan kitchen scraps and eggshells.
ShareWaste.com

Located at various sites throughout the Milwaukee area.
Contact a host site near you to check what organic waste they are able to accept.
UW-Milwaukee Office of Sustainability Hoop House

3400 N Maryland Ave (Near the Sandburg Gardens located outside of the East Tower of Sandburg Hall.)
Accepts uncooked fruits and veggies, coffee grounds and tea leaves, and eggshells.
Victory Garden Urban Farm

220 E Concordia Ave (Near the north end of the farm.)
Accepts household kitchen scraps.
3. Use a Pick Up Service
Collect your waste at home and use one of the following residential services to pick it up for you!
City of Milwaukee Organics Collection Program (Pilot)

The Organics Collection pilot program ended September 2020, however the City of Milwaukee is still interested in offering composting services.
Please contact your alderperson to let them know you support the city providing this service.
Find out who represents you and their contact information at the City of Milwaukee's Common Council page.
Compost Crusader

Services Greater Milwaukee Area. Check your address on their site to see if you are in their service area!
Accepts kitchen waste (including dairy and cooked meat) and yard debris.
Curby's Compost Service

Services Bayside, Brookfield, Brown Deer, Butler, Cedarburg, Fox Point, Germantown, Glendale, Grafton, Menomonee Falls, Mequon, Milwaukee, Richfield, River Hills, Shorewood, Thiensville, Wauwatosa and Whitefish Bay.
Accepts kitchen scraps and garden debris.
Municipal Fall Leaf Collection

Many cities offer a free leaf collection service in the fall. Contact your city to see what materials are accepted and when.
Village of Shorewood Organics Collection Program

Services Shorewood residents occupying 1-, 2-, and 3-family dwellings.
Accepts household kitchen scraps and yard debris.
Waste Not, LLC

Services Ozaukee County, Sheboygan County, North Eastern Waukesha County, Eastern Washington County, and Milwaukee County.
Accepts household kitchen scraps.
How can I support composting?
Whether you're composting your organic waste directly or not, there are many ways you can support the composting industry and help make your community more sustainable.
1. Spread the Word
Talk to your local representatives about why composting is important to you. Share information about composting with your family, friends, and coworkers. Young people are the future – teach them how to compost and why it is important!
Encourage folks to contact their alderperson about a city-wide collection service. This helps inform the city how much interest there is in offering this service again!
2. Help Others Compost
Support legislation that expands composting infrastructure and programs on a local and statewide level. Ask businesses to compost too, so patrons aren't creating waste when they visit their establishment. When states, cities, and business set up composting, they make it more accessible for everyone!
Register your compost site at ShareWaste so your neighbors can compost their kitchen scraps too. Volunteer with Kompost Kids and Compost Crusader to help compost at events.
3. Vote with Your Wallet
Support restaurants, businesses, and organizations that compost. You can also donate to Kompost Kids to support composting education and community composting.
Compost for the future!
Composting is a powerful tool we can use to reduce waste and emissions. Compost is a valuable resource we can use to improve the health of the soil and, therefore, our health and the planet's. But we aren't fully utilizing either right now. In order to build a sustainable Milwaukee and leave the planet in good shape for future generations, we need to make composting part of our every day lives. Share this guide so together we can compost to support our lives today and protect the future!
Composting FAQs
Still curious about composting? Find more info and answers to your composting questions in the Composting FAQs!
Last updated on August 11, 2023
---
References:
1 – US Environmental Protection Agency: National Overview: Facts and Figures on Materials, Wastes and Recycling | US EPA
2 – US Environmental Protection Agency: Greenhouse Gas Emissions
3 – University of Wisconsin – Extension: Making and Using Compost in the Garden (A4021)
4 – Compost Research and Education Foundation: What Are the Benefits of Using Compost and Composting Food and Yard Waste?