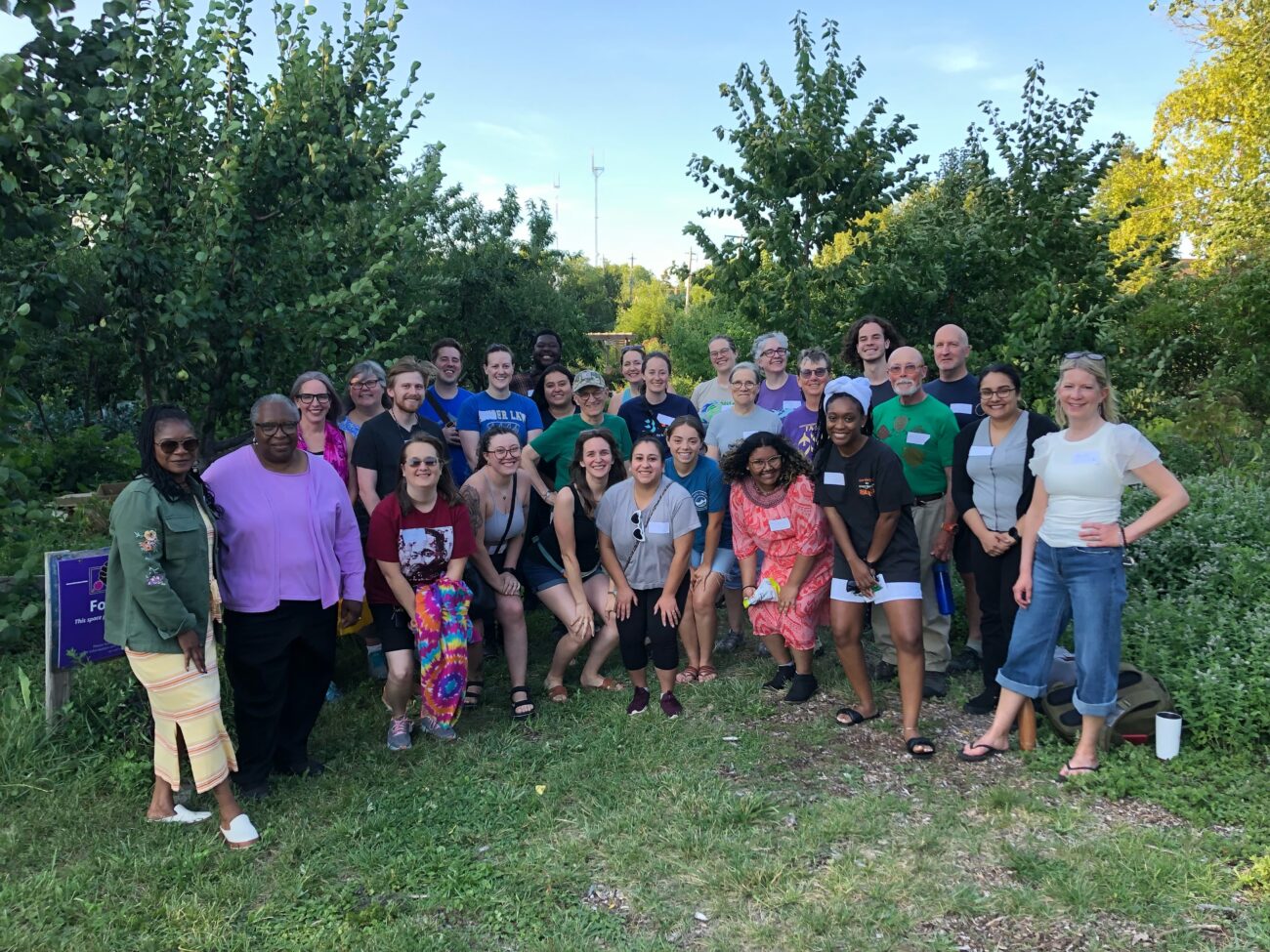 Building a Multicultural Environmental Community
UPDATE: We're growing! In August 2023, the Building a Multicultural Environmental Community Network was renamed to the Fair Future Movement! With the help of the community, Co-Leads Mandi McAlister and Jasmine Roberson are organizing our next steps to unite the community for environmental justice. We appreciate your patience while we update the website to match our new name and vision. Sign up here if you'd like to get involved and join the Fair Future Movement!
We're building a network of community members and organizations throughout Wisconsin. Join us!
Our mission is to build a multiracial and multicultural environmental community and movement centered around environmental justice. We commit to working together to advocate for environmental justice, fight racism, decenter whiteness, and dismantle white supremacy so all people and the planet can thrive.
Why We're Here
Our liberation as a society is tied together. By dismantling the systems of division and oppression within the movement, we can work together and have a greater impact that will benefit everyone. We can ensure that the people who are impacted the most by environmental hazards receive the funding, resources, and support needed to address it. We can also ensure that environmental benefits are equitably distributed throughout the community.
Who We Are
We're a network of 160 community members and 25 organizations located throughout Wisconsin. The following organizations have joined in as Committed Partners:
---
What We Do
Since Spring 2021, we've been providing opportunities to build community, learning about systems of oppression on the personal and organizational level and how to dismantle them, and taking action in our community to further our mission.
We do this through our…
Collective Learning & Action Sessions
At the beginning of each year, community members who are interested in exploring systems of oppression are invited to work together through a selected book. Community members gather once a month to build community, and discuss what they're learning and how they're taking action to apply it. Sign up here if you'd like to join the 2024 session when it starts in February!

Collective Action Alerts
Every two weeks, community members receive a Collective Action Alert email with suggested actions to fight racism, work towards environmental justice, and build a multicultural environmental community. Collective Action Alerts allow us to act in unison and target our collective power to respond to the needs of the community.

Quarterly Network Meetups
Committed Partners and community members interested in working together to learn about and address the systemic issues in the environmental movement and society as a whole, are invited to attend our virtual quarterly meetups. This is an opportunity to build community, work together, and brainstorm how we can make an impact.
As a network we act in unison, pool our resources, and target our collective power to respond to the needs of the community. Our collective voice and actions amplify the need for equitable solutions to environmental injustices, and support the people and projects that are currently working to address them. Get involved by joining the network here!
Support Our Work
Since this project began in 2021, it has relied on volunteer efforts. We are very proud of what we've been able to build and accomplish, and are very grateful for everyone's commitments and efforts. To ensure we can move forward equitably and sustainably, we are seeking funds to support the people involved and their work.
We secured funding to support our work through 2023, but we are currently working to raise $30,000 to fund this effort throughout 2024. This funding will enable us to facilitate the 2024 Collective Learning & Action Session, engage the community in action through bi-weekly Collective Action Alerts, and host quarterly meetups to support and bring the community together
This funding will also give us time to make this network self-sustaining and seek funding from grants as needed. Any funding we receive that exceeds our goal will be used to support, improve, and expand our programs listed above. Any contribution will help us reach our goal, and would be greatly appreciated.
If you'd like to support our work, please click the button below to make a donation through Milwaukee Environmental Consortium. Thank you so much for your consideration and support.
---
---
Special Acknowledgements
This program is inspired by the following anti-racism educators and activists: August Ball, Ibram X. Kendi, Layla F. Saad, and Leah Thomas. We encourage you to get to know them and support their work.
Thank you to Dr. Sandra Jones for her guidance throughout this project. Thank you to David Thomas of Nearby Nature for his assistance in launching this project.
Additional Project Information
This project began after David Thomas and Mandi McAlister attended August Ball's anti-racism workshop series hosted by Nearby Nature Milwaukee in Fall 2020. Nearby Nature Milwaukee, Milwaukee Environmental Consortium, and Hummingbird collaborated to launch this project in March 2021.
13 organizations and over 90 community members joined in after its initial launch. It grew to 20 organizations and 130 community members in 2022. You can read more about how it came together here and its launch here.
This project is lead by Mandi McAlister and continues to be developed as a program of Milwaukee Environmental Consortium.