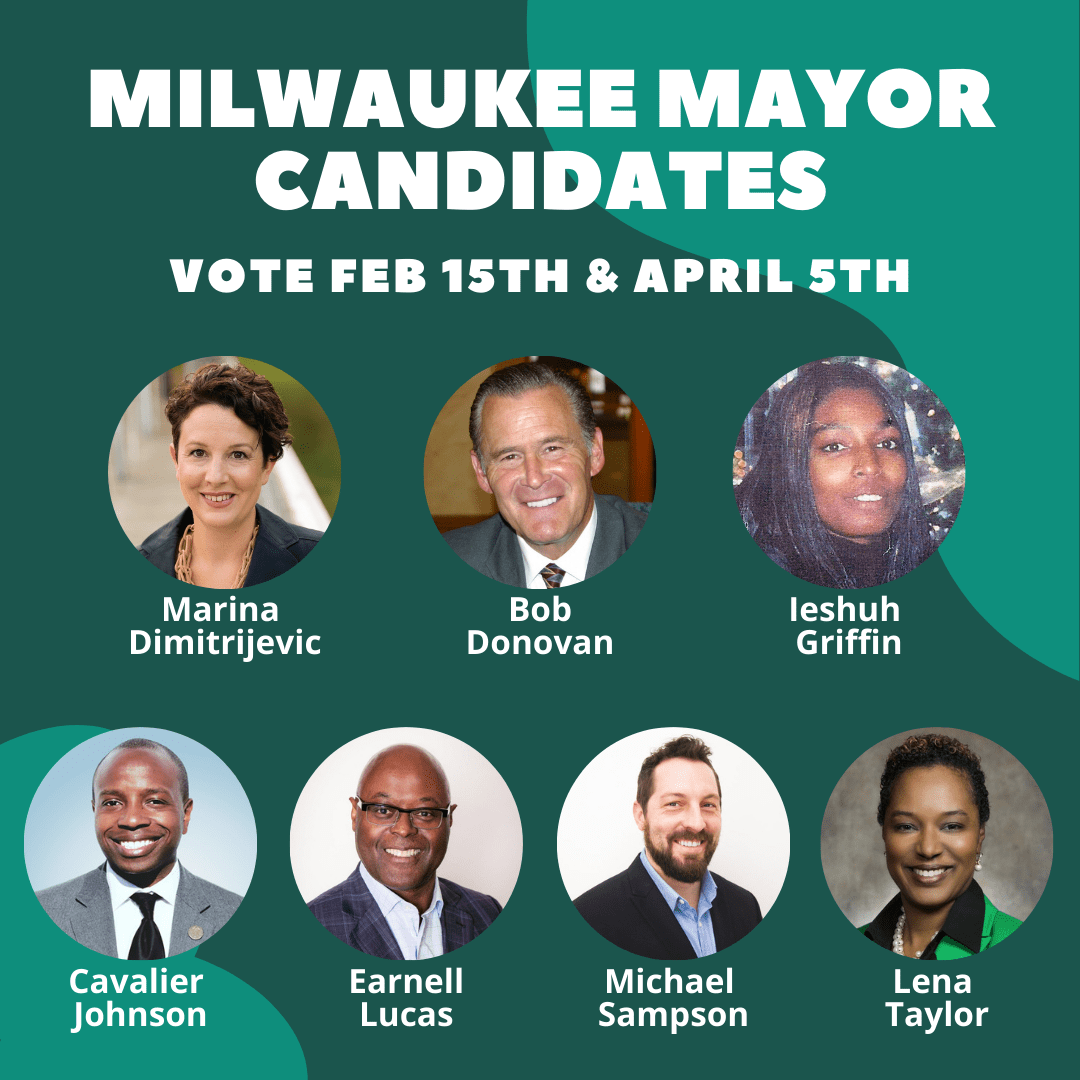 Be An Informed Voter: 2022 Milwaukee Mayoral Candidates
This Spring Election is the first time in nearly two decades that we'll have an opportunity to elect a new leader for our city. Do you know who you're voting for? Which of the candidates listed below do you think will help us build a #SustainableMKE where all of its residents can thrive and live in dignity?
If you're unsure, no worries! There are a lot of opportunities coming up for you to learn more about the candidates. Check out one of the opportunities below to hear from the candidates and become an informed voter. (UPDATE: Past events listed below now include the recording of the event if possible.)
Candidate Forums
This forum hosted by the WAAW Center (WI AFRICAN AMERICAN WOMEN'S CENTER) is designed to be an interactive experience allowing engaged citizens the opportunity to share their focused perspectives on issues paramount to the community like public health and safety, crime, jobs, housing, and the like.

It will be a structured session with a moderator and questions will be taken from attendees.

The next Milwaukee Mayor must be someone who works with the people of Milwaukee to make progress on racial justice, to address climate change and the energy burden put on communities of color, to ensure that everyone has access to a well paying job and the transportation to get to that job. Join us and the top Citizen Action candidates to hear their vision for the future of Milwaukee.
Virtual event hosted by NAACP Milwaukee on January 29th
Moderated by Fred Royal, Jr., Milwaukee NAACP 1st Vice President.
Emilio De Torre of the Milwaukee Turners will be the moderator. Feel free to submit your suggestions for forum questions for consideration. A list of the questions submitted will also be shared with the candidates following the forum. The Forum will be an opportunity for candidates to express their platforms and ideas for the role of mayor and not a debate.
Live-streamed and in person event at El Bethel Church hosted by the Milwaukee Clergy Coalition on February 3rd
You are invited to meet and talk to the candidates for Milwaukee Mayor. You decide who will lead our city when you vote on February 15 and April 5. This is your change to compare the candidates to see who will help our community grow stronger. Let you voice be heard on critical issues that concern your city.
For more information contact Pastor Steve Tipton: 414-797-4017

For the first time in a generation, Milwaukee will elect a new Mayor. MASH is working to make sure that our next mayor prioritizes Milwaukee's service sector working class. Before we vote in the primary election Tuesday, February 15th, we need to hear from Mayoral candidates on issues that matter.

Join fellow MASH members and our union siblings from SEIU Local 1 and SEIU Healthcare Wisconsin for a Mayoral candidate forum, on Tuesday, February 8th at 6:30 pm. Candidates Marina Dimitrijevic, Cavalier Johnson, Earnell Lucas and Lena Taylor will take questions directly from members of our service worker unions.

Watch the livestream on February 8th at the MASH Facebook page.
All of the Milwaukee mayoral candidates who will face off in the February 15th primary have been invited and are expected to take part in an election forum set for 7 to 9 p.m. Wednesday, February 9th at Turner Hall Ballroom, 1040 N. Vel R. Phillips Avenue. Moderators will be Charles Benson, reporter and news anchor at TMJ4 – WTMJ TV, and James Causey, columnist and special projects reporter at the Journal Sentinel. Topics will include important issues facing Milwaukee and its residents. Read more here.
February 10th at 6 pm: Virtual event hosted by Sherman Park Community Association and Grasslyn Manor Block Association
Featuring: Marina Dimitrijevic, Bob Donovan, Ieshuh Griffin, Cavalier Johnson, Earnell Lucas, Michael Sampson, Lena Taylor

Send questions for candidates to Steve O'Connell, Moderator: oconsase@sbcglobal.net

Interviews and Questionnaires
TMJ4 News also did in-depth interviews with each of the candidates. The interviews air each weeknight at 6pm until Feb 1st. You can also find them on their YouTube page here.
The League of Women Voters of Milwaukee County published their online Spring 2022 Primary Voter Guide on vote411.org. Visit the site to learn more about the candidates, along with general voting information.
Debates
Marquette University and TMJ4 News will host a televised debate between the two finalists in the race for Milwaukee mayor on March 27th from 6-7pm.
This is the first time in nearly two decades that we'll have an opportunity to elect a new leader for our city. It's quite an opportunity – don't miss it! How will you become an informed voter so you're ready to vote on February 15th and April 5th?